¡@
¡@
Home --> Index of metal cutting tools > Conical Drills
HSS Conical Drills ( Tube & Sheet Drills )
The Tube & Sheet Drills make a useful addition to the spiral drill, especially for use on thin-wall material. Their conical shape enables holes of various different diameters to be drilled with one tool. With a hand drill, the maximum is 60mm. Size are available from 3mm to 60mm, with various different quality characteristics, and also with various different coatings, e.g. TIALN for dry work, etc.
Tube & Sheet Drills offer the following product advantages: Tri - Lobe shafts, laser scaling, laser-etched r.p.m., and cutting speeds on the plane surface.
Tube & Sheet Drills cutting for sheet-metals, pipes and profiles of steel, CrNi-steel, NE-metal, Plexiglas, plastics, wood with a wall thickness of up to 5mm.
¡@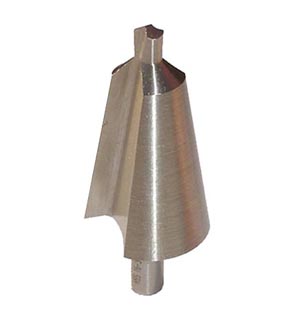 Advantages in comparison with twist drills:

1) No centering required, the drills do not run off centre.
2) A variety of hole diameters can be drilled using only one tool.
3) Hole diameters of up to 60mm can be produced using hand drills.
4) Holes are almost completely free of burrs.
5) Very thin-walled material can also be drilled.
Material: M2 HSS, M35 HSSCo5% ( HSS-E )
Surface coatings available:
White Finish
Black Oxide
Tin Coated
TIALN Coated
Cobalt Coated
Shank type available:
Round Shank
Quick Change Hex Shank
Tri-Flat Shank
Size available:
¡@
¡@
¡@
3 pcs HSS Conical Drills Set/ Item No.:

SCD301S


( Tube & Sheet Drills Set )
Packaging: Metal Case
Surface: White Finish


Size include:

3 - 14mm / 5 - 20mm / 16 - 30.5mm

3 pcs Tin HSS Conical Drills Set/ Item No.:

SCD303S
( Tube & Sheet Drills Set )
Packaging: Metal Case
Surface:

Tin Coated




Size include:

3 - 14mm / 5 - 20mm / 16 - 30.5mm

3 pcs HSS Conical Drills Set / Item No.:

SCD302S
( Tube & Sheet Drills Set )
Packaging:

Wooden Box
Surface: White Finish


Size include:

3 - 14mm / 8 - 20mm / 16 - 30mm

3 pcs HSS Conical Drills Set /

Item No.:

SCD305S
( Tube & Sheet Drills Set )
Packaging: Metal Case
Surface: White Finish


Size include:

3 - 14mm / 8 - 20mm / 16 - 30mm
¡@