Home --> Power tools accessory >metal drill bits > HSS Hole Cutters
ˇ@
HSS ( high speed steel ) hole cutter is able to cutter about 1.60 mm deep of stainless steel, cooper, aluminum and other metal compound plates.
Features :
1.Used for the sheet metal with 1.6mm.
2.The cutting length is 12mm.
3.High Speed Steel cutting edge
4.Separate arbor required.
5.Can be used on portable electric, pneumatic tools and pillar drilling machines.
Applications :
. Stainless steel plate
ˇEF.R.P.
ˇECopper plate
ˇEIron plate
ˇEBrass plate
ˇEAluminum plate
ˇEOther hard land compound metallic plates.
<![if !vml]>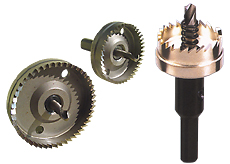 <![endif]>
| | | |
| --- | --- | --- |
| Order No. | Diameter / mm | Overall length / mm |
| M402-015 | 15 | 70 |
| M402-016 | 16 | 70 |
| M402-017 | 17 | 70 |
| M402-018 | 18 | 70 |
| M402-019 | 19 | 70 |
| M402-020 | 20 | 70 |
| M402-021 | 21 | 70 |
| M402-022 | 22 | 70 |
| M402-023 | 23 | 70 |
| M402-024 | 24 | 70 |
| M402-025 | 25 | 70 |
| M402-026 | 26 | 70 |
| M402-027 | 27 | 70 |
| M402-028 | 28 | 70 |
| M402-029 | 29 | 70 |
| M402-030 | 30 | 70 |
| M402-015 | 32 | 70 |
| M402-015 | 35 | 70 |
| M402-015 | 36 | 70 |
| M402-015 | 38 | 70 |
| M402-015 | 40 | 70 |
| M402-015 | 42 | 70 |
| M402-015 | 45 | 70 |
| M402-015 | 48 | 70 |
| M402-015 | 50 | 70 |
| M402-015 | 51 | 70 |
| M402-015 | 52 | 70 |
| M402-015 | 53 | 70 |
| M402-015 | 55 | 70 |
| M402-015 | 60 | 70 |
| M402-015 | 63 | 70 |
| M402-015 | 65 | 70 |
| M402-015 | 70 | 70 |
| M402-015 | 75 | 70 |
| M402-015 | 80 | 70 |
| M402-015 | 85 | 70 |
| M402-015 | 90 | 70 |
| M402-015 | 100 | 70 |
| M402-015 | 105 | 70 |
| M402-015 | 120 | 70 |
| M402-015 | 150 | 70 |