¡@
¡@
Home --> Index of metal cutting tools > HSS countersinking drill >HSS 3 Flute Countersinking drill
HSS 3 Flute Countersinking drill 90 degree, DIN335C
Standard Series

* 60 degree, 75 degree, 82 degree & 120 degree are available.
* 3 cutting edges.
* Best result at low cutting speed.
* Quickly and accurately countersink, deburring, and chamfer in any machinable materials
including iron, steel, plastic or wood.
* M35 HSSCo5% (HSS-E) available for specified requirements.
* Surface: White Finish, Black Finish, Titanium Coated & TiALN Coated are available.
* Packaging: Individual packing in Plastic tube or Plastic blister card.
* Countersink Set are available.
¡@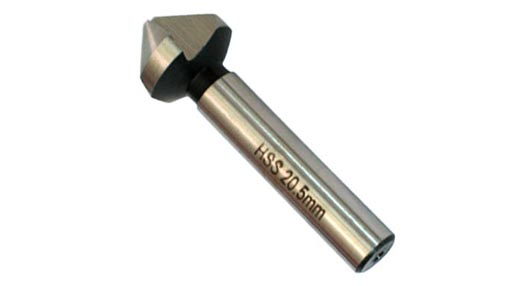 Size Metric:
| | | | |
| --- | --- | --- | --- |
| Item No. | Size | Overall Length | Shank Size |
| | | | |
| | | | |
| | | | |
| | | | |
| | | | |
| | | | |
| | | | |
| | | | |
| | | | |
| | | | |
| | | | |
| | | | |
| | | | |
| | | | |
| | | | |
| | | | |
| | | | |
| | | | |
| | | | |
| | | | |
| | | | |
| | | | |
| | | | |
| | | | |
| | | | |
| | | | |
| | | | |
¡@
¡@